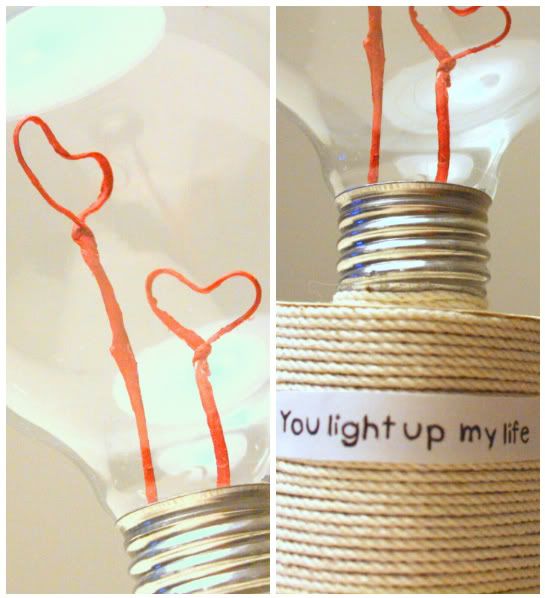 So this summer I saw an amazing Valentine's Day craft and I completely loved it. I saved up my burnt out light bulb and put it to good use.
As I've mentioned in previous posts, I'm poor and super cheap. So I didn't want to have to buy ANYTHING for this craft and I still wanted it to look better than something made in a first grade art class. Ya know?
To see the original craft go on over to design sponge. They never disappoint on making beautiful things.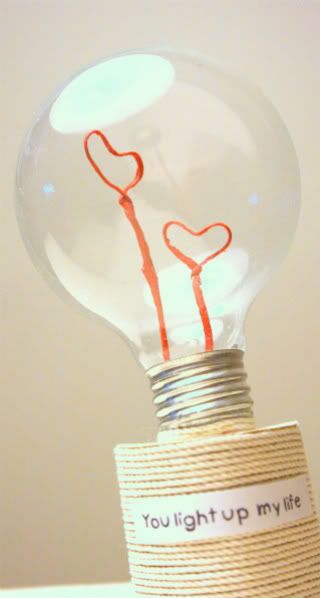 List of how I changed the Valentine's Day craft:
> The original posting called for red wire. Welp, I didn't have any of that so I used twist ties and painted them red.
> The post also called for a block of wood. Didn't have that either so I cut a used toilet paper roll in half, glued a circle of cardstock paper on top, and wrapped it in butcher twine.
> The post also had a clever printed out saying of "You light up my life." Well, I don't have a printer, so I wrote it out and glued it on instead.
Overall, I think the finished product turned out nice. Super easy and super fast. And I loved hollowing out the light bulb.
You should make this for your husband or friend…or yourself! Ha!